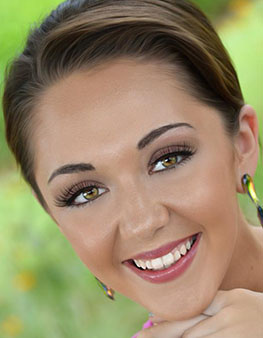 Age: 23
Parent: Daughter of Kerri Herr
Hometown: Shelby
School: Graduate of Gardner-Webb University; bachelor's degree in music education and voice
Future Plans: To pursue a master's degree; work as a collegiate-level choral or band director
Talent: Classical vocal; performed "Quando M'en Vo" for the talent competition
Community Service: Art: The Highest Form of Hope
She is the chorus and piano teacher at Crest Middle School and worship leader at Zoar Baptist Church.
She received the music achievement award at Gardner-Webb University three times and served as chapter president of the National Association for Music Education at Gardner-Webb.
She was born in Long Island, New York and is the second oldest of five children.


She has held leading and supporting roles in four operas and several oratorio and orchestral performances and theater productions.

She worked at a fish camp restaurant while in high school and served as the drum major for her high school marching band.