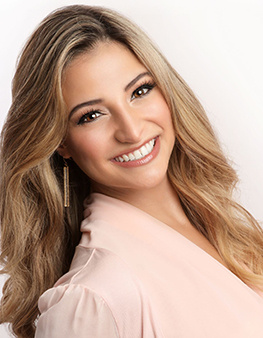 Age: 23
Parents: Daughter of Sylvia Robles-Linares and Mario Linares
Hometown: Charlotte
School: Graduate of Wake Forest University with a degree in mathematical business
Future Plans: To pursue a master's degree in computer science; become a chief technology
officer or chief information officer
Talent: Performed a jazz dance to "Man! I Feel Like A Woman" for the talent competition
Community Service: Full STEAM Ahead: Promoting the Arts in a STEM Future
She received the prestigious Wake Forest University Chinuntdet-Crowe Leadership Scholarship and was named to the Dean's List at Wake Forest.

She was a member of the Wake Forest University dance team and helped to organize the "Wake 'N Shake" dance marathon to raise money for cancer awareness and research.


She is conversationally fluent in Spanish.

She has visited Disney World more than 100 times, loves to bake, and has participated in a flash mob.

She is an avid baseball fan and was voted "most school spirited" in high school.